By Dave Little, Meadowlands Media Relations (Lisa photos)
EAST RUTHERFORD, NJ – Bettor's Wish is off to a great start as a sire, as his first-crop offspring Better Is Nice and Pulp Fiction both put up impressive victories in a pair of $240,000 New Jersey Sire Stakes finals for 2-year-olds on the pace at The Meadowlands Friday night.
Better Is Nice (Bettor's Wish-Thtsoveryverynice) used a burst of speed to make the lead before the half on the way to an easy 2½-length win over Alritealritealrite in the division for colts and geldings in a lifetime-best 1:50.4 with Andy McCarthy doing the driving. The 3-5 favorite returned $3.40 to win.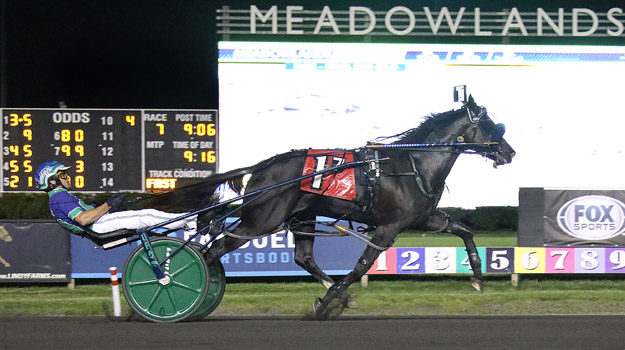 "We didn't think he would be a high-profile colt," said winning trainer Tony Alagna. "We had him in the sale, but he only brought $25,000, so I bought him back. He's a real playful horse who reminds us of Abuckabett Hanover. We called him 'Little Bucky' all spring. He's much better tracking horses down but he can do it either way. I bred to Bettor's Wish because I had the faith he could deliver."
Pulp Fiction (Bettor's Wish-I'm Trigger Happy) led at every call in the split for fillies, finishing the mile 4 lengths in front of Odds On Steno in a lifetime-best 1:52.2 to stay perfect in three career tries, all in the NJSS. Sent to the gate as the 1-5 public choice, she returned $2.60 to win.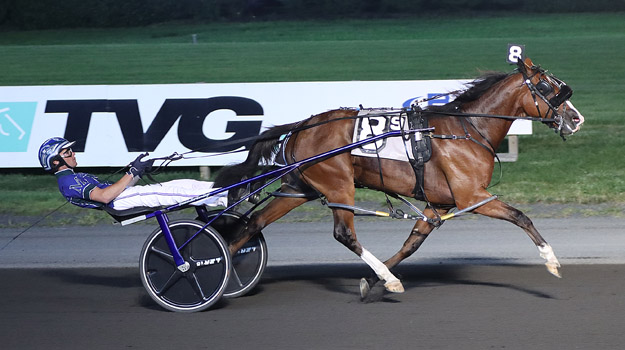 "I know she can get out of the gate well," said winning driver Todd McCarthy. "There weren't quite as many fireworks as I thought there would be (up front). She still has a lot to learn, but every time I asked her, she went on with it. (Trainer) Mike (Hall) has done a great job with her."
LITTLE 'MASTERFUL': Gabe Prewitt made Dave Little sweat on the 19th and final night of the track's "Battle of The Meadowlands Masterminds" handicapping contest, but came up short one winner in his attempt to dig out of a $3,000 hole as Little took not only the overall title but was the nightly winner as well.
Little nudged past Jessica Otten by $5 on the night after Pulp Fiction delivered an easy score, giving Little $525 for the night. As for the 10-week competition, Little finished with a bankroll of $11,643.05. Ken Warkentin was second with $9,225.00, Prewitt third at $8,296.40 and Otten fourth with $8,121.50.
Prewitt's shot at a last-ditched rally faltered when 6-5 favorite Sarasota Hanover failed in the sixth, costing him the title.
A LITTLE MORE: Yannick Gingras led the driver colony with three winners on the night. … Ake Svanstedt led the trainers with a hat trick of his own. … A $47,167 carryover led to $158,635 in "new money" being bet into the 20-cent Pick-6 pool for a grand total of $205,802. Those with winning tickets collected $1,035.56 after winner's odds during the sequence were 7-2, 1-5, 10-1, 9-5, 5-2 and 9-5. … All-source handle on the 14-race card was $3,359,926, the 48th time from 62 race cards that betting busted the $3-million barrier this year. … Racing resumes Saturday, Hambletonian Day, at noon. If you can't make it out to the track, The Hambletonian, which has a post time of 4:45 p.m., can be seen live on FOX SPORTS (FOX 5 NEW YORK in the Metropolitan Area).